Digital Ascension Fiber Bragg Grating
(DAFBG)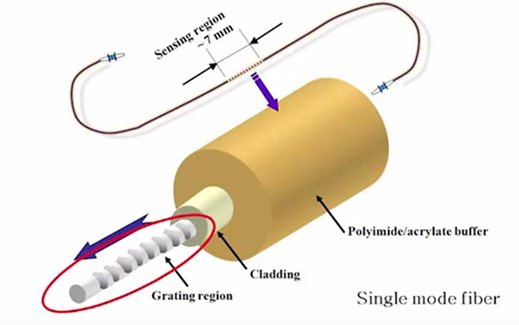 Super Slim fiber Optic P/T Gauge
An ultra low profile ¾" fiber optic P/T gauge
A Fiber Bragg Grating (FBG) is a distributed Bragg reflector. Normal fiber has a uniform reflective index along the length, but in a FBG, the reflective index of the core changes periodically along a short length (grating region) of the fiber. When a light with many wavelengths is launched into an FBG, one particular wavelength is in phase with the grating period, and this wavelength is reflected back to the input end (the interrogator). All other wavelengths are passed through the FBG since they are not in phase with the grating period of the FBG as shown in the figure below. External factors such as heat and vibrations will cause a shift on the wavelength of the reflective light, these variations can then be translated into physical engineering unit such as temperature and pressure.

FBG Sensor (Gauge)
Application
The FBG Gauge is a low profile ¾" fiber optic P/T gauge. Pressure is communicated via a small pressure port on the gauge body to an internal sensing mechanism where pressure and temperature measurements are made using two Fiber Bragg Grating Sensors.
Tubing pressure and temperature measurements, the low profile gauge is attached to a gauge mandrel with the use of dual metal o-ring or c-ring seals. Annulus pressure and temperature measurements are simply measured by leaving the pressure port open to the wellbore FBG Gauges can be multiplexed on a ¼" downhole cable to which gauges are sealed using pressure testable connections
Pressure Rating
Pressure rating is 15,000 psi.

Features
• HPHT fibre optic gauge
• No downhole electronics
• All metal sealing
• Long life at extreme temperature
• High multi-drop capability
• Annulus, tubing or ported pressure configurations
• Low profile 0.75" design
• Low cost

Specifications
Working Pressure: 15,000 psi
Working Temperature: 0-400 deg f / 0 200 deg c
Pressure Accuracy: <1% FS
Pressure Resolution: 0.01%FS
Temperature Accuracy: 0.2 deg f